Boston Professional Events List
Baking School: Essential Breads, Pastries, Cookies & More with Chef Cleo
---
Date
Oct 29, 2021 - 12:00 PM - Oct 30, 12:00 PM
Venue
The KITCHEN presented by The Trustees
Location
The Boston Public Market 100 Hanover Street Boston, MA 02108,
Boston,
Massachusetts,
US,
ZIP: 02201

Baking School: Essential Breads, Pastries, Cookies & More with Chef Cleo
Presented by The Trustees
Go back to school and learn how to bake with Chef Cleo Bell at The KITCHEN at The Boston Public Market! In this lively, hands-on cooking class you'll learn the essential science and techniques to creating perfect baked goods. In each class, participants will create enough of each baked good to enjoy at the end of class and bring home extras to share.
Attendees will also enjoy a wine tasting of three local wines from the Massachusetts Wine Shop as they knead, mix, taste, and bake each scrumptious recipe.
Baking School is scheduled for Sundays this fall starting at either 1:00-3:00 pm or 4:00-6:00 pm.
French Pastries: Chocolate Eclairs and Cheesy Gougeres
Dates: October 29 & November 5
The real trick to these two classic French pastries is that they are not as tricky as they seem! Master the knack of making the choux pastry at the base of the sweet, pastry-cream filled Taza Chocolate éclair and the savory, cheesy gougère using farm-fresh cream and cheese from Appleton Farms in The Boston Public Market. Savor the fruits of your labor at the end of the class and then take your knowledge home and show off! Attendees will make 10 mini chocolate eclairs and 10 cheesy gougeres.
Breakfast Treats: Cinnamon Buns and Savory Scones
Dates: November 19 & November 26
Tis the season for overnight guests! Impress them with your breakfast pastry-making skills by learning how to master two classics: sweet & gooey cinnamon buns made with farm-fresh butter and locally-made cinnamon from Soluna Gardens, and cheesy herb scones made with fresh Appleton Farms cheese and herbs from Cornerstalk Farms. Take home what you've made to enjoy with friends and family and recreate these favorites all season long! Attendees will make 6 cinnamon buns and 6 savory scones.
The Weekly Loaf: Honey Wheat and Classic Country White Bread
Dates: December 3
Join us in The KITCHEN to learn just how easy and satisfying it is to make bread in your own home. A classic favorite, the honey-wheat loaf is great for sandwiches or to round out any dinner, and the classic country white is a all-around-crowd pleaser. Mix, knead, and shape two loaves to take with you and finish baking at home, and sample the finished product baked earlier that day with local cheeses from the Appleton Farms cheese shop at The Boston Public Market! It's never too late to start making your own bread, and once you do, you'll see why you'll never go back!
Holiday Favorites: Red Velvet Cupcakes and Gingerbread Men
Dates: December 10 & December 17
It wouldn't be the holidays without these two classic treats. This fast-paced class will be packed full of activity. Attendees will learn how to make a traditional gingerbread dough from scratch using spices from Soluna Garden Farm, roll them out, cut into shapes, and decorate with sugar icing. We'll also make a rich red velvet cupcake batter, with a sweet and tart cream frosting using Appleton Farms cream and local butter. You'll get to take home what you've made, plus the recipes and knowledge to recreate these favorites at home. Attendees will make 6 cupcakes and 6 gingerbread men.
Our hands-on baking classes are structured as a group learning experience; you'll work with other students to create a seasonal meal led by our professional chef instructors. We focus on learning new styles and techniques to increase your confidence and enjoyment in your own kitchen. Here are a few things to know before booking a class with us:



During each class, you'll learn 2 recipes and you'll work with between 2 and 4 other students to create each one.


Classes are usually between 2 and 2.5 hours long, unless otherwise noted.


Please be prepared to be on your feet, standing at a table, and cooking for the duration of class.


We recommend comfortable, non-slip, and closed-toe shoes.


Tickets: $48 for Trustees member and $60 for Non-Trustees Members. Members must bring their current member card and number. Join The Trustees and save! Members save between 20-40% off all classes in The KITCHEN.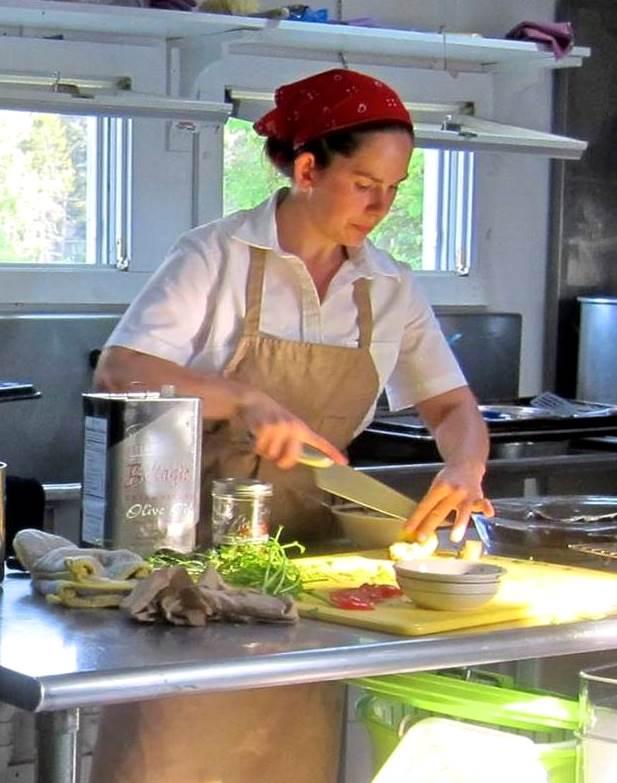 About Chef Cleo Bell
Cleo was born and raised in Washington, DC. She attended McGill University in Montreal and has a BA in Cultural Anthropology. After graduating, she moved back to DC and began working at local restaurants, such as Againn, a British Isles-inspired gastro-pub and Komi, a high-end Mediterranean restaurant. She has spent 2 summers as the Head Chef for the Hog Island National Audubon Society summer camp in Maine, working with local farms to bring fresh food to the Island and to happy campers. Cleo is thrilled to have the opportunity to cook and teach at Boston Public Market, with the whole Market to source from and the whole of Boston to serve.
At first glance, it might seem a strange road from cultural anthropology to cooking, but food and cooking are integral to the expression and transference of culture. As they say: culture begins at the table. By concentrating on serving local, sustainable foods, Cleo hopes to elevate the experience of the diner and to make a positive impact on the local food community.

About The Trustees and The KITCHEN
As one of the largest owners of agricultural land and the premier steward of the cultural and natural landscape of Massachusetts, The Trustees extends its leadership to transform the local food system by connecting residents and visitors back to the land and sharing the Commonwealth's collective agrarian heritage through innovative retail and educational experiences at the Boston Public Market in the heart of downtown Boston.
The KITCHEN is a community gathering place, managed by The Trustees, that is restoring the craft of seasonal cooking in Massachusetts, New England, and beyond through hands-on classes and educational experiences that celebrate the farmers and artisans of this region. Partnered with the Boston Public Market, The KITCHEN embraces a whole-food approach to eating and promotes cooking as an essential cornerstone of a sustainable food system.
Join the Trustees and recieve discounts on KITCHEN events. Join here.
---
---
---
Comments
---
---
Newsletters
VIP Life Time Subscription to our Newsletters!

$399.99