Boston Professional Events List
3rd Payer Partnership Forum (exl) AS
---
Date
Jun 11, 2018 - 08:00 AM - Jun 12, 05:00 PM
Organizer
New York Media Technologies LLC in association with EXL Events Inc
Location
BostonBoston, MAUnited States,
Boston,
MA ,
US,
ZIP: United States
Phone: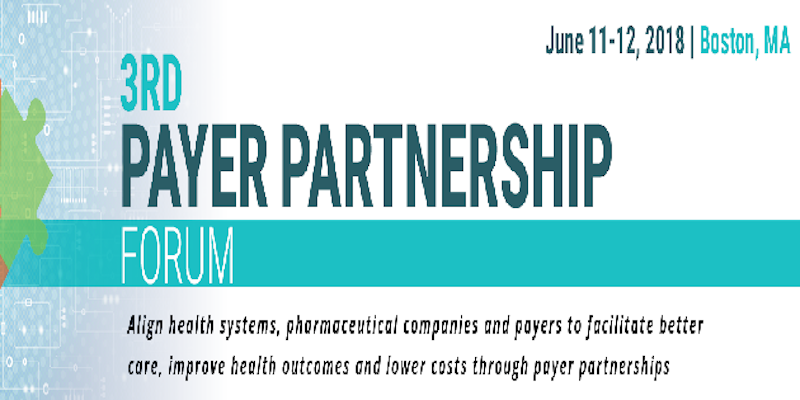 Description
3rd Payer Partnership Forum
The Payer Partnership Forum convenes professionals from healthcare payers and providers and life science organizations to discuss the conception and execution of successful and worthwhile partnerships. This forum will help professionals who are eager to engage in payer partnerships to build trust and goals between life science organizations and payers alike. The expert speaking faculty will share proven strategies to successfully initiate, monitor and sustain a partnership that achieves both parties' goals while defining the steps to ensure organizational discipline. The attendees of this conference will walk away able to establish and maintain strong partnerships with payers to decrease expenditures, advance the quality of care and improve health outcomes.
Top Five Reasons to Attend
Establish solutions for balancing value, access and affordability under value-based care

Define the regulatory and legal barriers to achieving the best methodology for reimbursement

Transform your pilot partnership into a long-range commitment to maximizing results

Examine how post-acute partnerships, collaboration, data sharing, regulatory requirements and communication fit together to enhance the care of the patient

Identify proactive strategies that expand patient access in an era of increasing cost controls and utilization management
Who Should Attend
This conference is designed for representatives from life science organizations, health systems and payers with responsibilities in the following areas:
Payer Strategy and Contracting

Value-Based Reimbursement Strategies

Payer and Channel Access

Patient Services and Pricing

Value-Based Payment Initiatives

Payer Engagement and Collaboration

Physician Alignment and Recruitment
Managed Care

Patient Access

Utilization Management

Account Management

Patient Support and Assistance

HEOR
This conference is also of interest to:
Data Management Solution Providers

Population Health Management Organizations
Data Management Solution Providers

Population Health Management Organizations
Please contact the event manager Marilyn below for the following:
- Discounts for registering 5 or more participants.
- If you company requires a price quotation.
Event Manager Contact: marilyn.b.turner(at)nyeventslist.com
You can also contact us if you require a visa invitation letter, after ticket purchase.
We can also provide a certificate of completion for this event if required.

NO REFUNDS ALLOWED ON REGISTRATIONS
-----------------------------------------------------------------
This Event Listing is Promoted by
New York Media Technologies LLC in association
with EXL Events Inc
http://www.NyEventsList.com
http://www.BostonEventsList.com
http://www.SFBayEventsList.com
-----------------------------------------------------------------
MYL170829CEV MAR170927UPT
Keywords: fun, access , communication , conference , design , Fun , Health , HealthCare , Management , methodolog
---
---
---
Comments
---
---
Newsletters
VIP Life Time Subscription to our Newsletters!

$399.99